[youtube=http://www.youtube.com/watch?v=lkFdBa1LFXE&fs=1&hl=it_IT]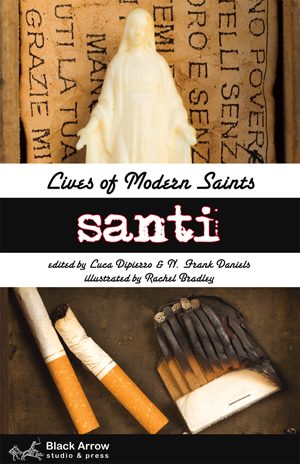 SANTI: LIVES OF MODERN SAINTS
An anthology of short stories published by Black Arrow Studio & Press edited by Luca Dipierro and N. Frank Daniels.
Design and illustrations by Rachel Bradley.
452 pages, softcover, w/ French flaps 25 b/w illustrations, ISBN 978-0979890802.
Includes the CD WHERE'S MY HALO? Five Stories from SANTI with original soundtracks by Sin Ropas (USA), Blake/e/e/e (USA/Italy), Polmo Polpo (Canada), Garland of Hours (USA), absinthe (provisoire) (France)
"The world is full of people bumping into one another. This leads to love,lust, fear, understanding, influence, debt, thievery, animosity, compassion, indifference, death and everything between those irregular coordinates. Santi: Lives of Modern Saints is a collection of characters experiencing all manner of circumstances, from grand and fractious to quiet intimacies. These stories are rich with beating hearts. It is populated by a series of riveting individuals seeking answers, redemption, or just some calm. This book is full of lives being shaken to their core, reaching for dignity, temporary delirium, or a warm embrace."
-David Greenberger, The Duplex Planet
"Finally, somebody has updated the strange and wonderful literary genre of hagiography. Thank you, Black Arrow, for this astonishing collection of sacred fictional texts. These stories reveal the mysteries and the wonder of the daily world – if we are only attentive to the important signs and meaningful details that exist all around us."
-Michael Kimball, author of How Much of Us There Was and Dear Everybody
Burning bushes, neon halos, preachers, sinners, false prophets, schizophrenic Santas, talking dogs, healing hands, living tattoos and much more is revealed in SANTI: LIVES OF MODERN SAINTS.
Step into a world where saints and sinners collide as you've never seen or read before. SANTI is an anthology of short stories. A cabal of today's most original up-and-coming Italian and American authors take traditional religious myths and flip them on their heads.
You'll be horrified by a modern Messiah created from the body parts of long-dead saints. You'll discover that today's most recognized saint, jolly old St. Nick, has divorced Mrs. Claus in search of an easier life.
The chronicle of a man's bizarre and disturbing addiction from childhood to death. A saint loses his healing power, only to be found in his son. A kid sees the devil in his classroom. An unacknowledged prophet witnesses the image of the Virgin Mary in a bowl of oatmeal.
These stories explore life in an increasingly profane modern world.
Featuring new fiction by Giovanni Arduino, Cristiana Astori, Grant Bailie, Alan Bissett, Valeria Francesca Brignani, Dan Chaon, N. Frank Daniels, Luca Dipierro, Greg Downs, Michael A. Fitzgerald, Timothy Gager, Davide Garbero, Danni Iosello, Noria Jablonski, Roy Kesey, Jon Konrath, David R. Matthews, Claudio Morandini, Giona A. Nazzaro, Erin O'Brien, James P. Othmer, Rob Roberge, John Sheppard, Giuseppe Signorin, Simone Tordi, Federico f. Zanatta.
SANTI: LIVES OF MODERN SAINTS will enlighten and amuse, terrify and redeem. This unique and comprehensive anthology leaves a lingering aftertaste that will stay with you for years to come.
[youtube=http://www.youtube.com/watch?v=AfWLchvEWVc&fs=1&hl=it_IT]